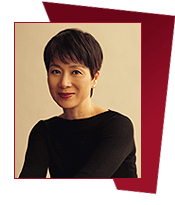 Professor Liang had invited me for a visit with the blood cancer patients at Queen Mary Hospital. The view of so many ailing patients upon my arrival was as shocking as it was heartbreaking for me - some were young children and many were in their prime years. Looking back, I realize the true wonder of how at first sight I saw only their pain and yet they received me with nothing but love and a genuine happiness to see me in the ward. To say the least, it was an overwhelming and humbling experience.
There was one particular female patient who made an impression on me as she was taking rest after a chemotherapy treatment. She bounded out of her bed as soon as she saw me, held my hands tightly and said, "Po Chu, is it for real?" as she broke into tears. "It's such a blessing for me to see you here in person! I used to wait for you outside the studios for days. Your visit has lifted me and I'm feeling much better now!"
It was to my fateful surprise that the visit turned out to be much longer than I had originally planned, as many patients urged me to stay on to chat with them. I did, and the blessing of hope and courage that day became mine.
I truly believe that every one of us needs to count our blessings for each day that we live. Let us all give thanks for our health and spare whatever time we have amid our busy schedules to help those who are in need. It is a great honour for me to serve as the Ambassador of the Hon Kong Blood Cancer Foundation, and it is my desire to help bring encouragement and support to the patients and their loved ones in the fight against blood cancer.
The logo of our Foundation is a rare four-leaf clover, a meaningful symbol indeed. Usually only three-leaf clovers can be found and these symbolize hope, faith and love. According to the legend, finding a four-leaf clover is a sign of luck. It is therefore my sincere wish that the Hong Kong Blood Cancer Foundation will bring even more than hope, faith and love to the blood cancer patients and their families, and also the best of luck!
Honorary Ambassador
Chan Po Chu